Job interviews can be a stressful experience for anyone who is looking for a new job. There are plenty of different types of interviews, but I'm sure that you've heard about behavioural interviews in the past. If you are looking for a job now or preparing for this type of interview, it should be your priority no 1 to understand it. Well build CV can tell the recruiter if the candidate has the skill required for the role. However, an interview is a critical step to evaluate this skill. Don't panic! We have some practical tips on how you can be more tactical and master your skills here.
What is a behavioural interview?
A behavioural interview, known as competency-based, is an interview where the candidate is asked to give an example from their previous experience to predict their future performance. The best way to answer them is to use STAR methodology to help people structure their answers for behavioural questions in a specific and easy to understand compile way.
Let's break down the STAR framework.
STAR stands for: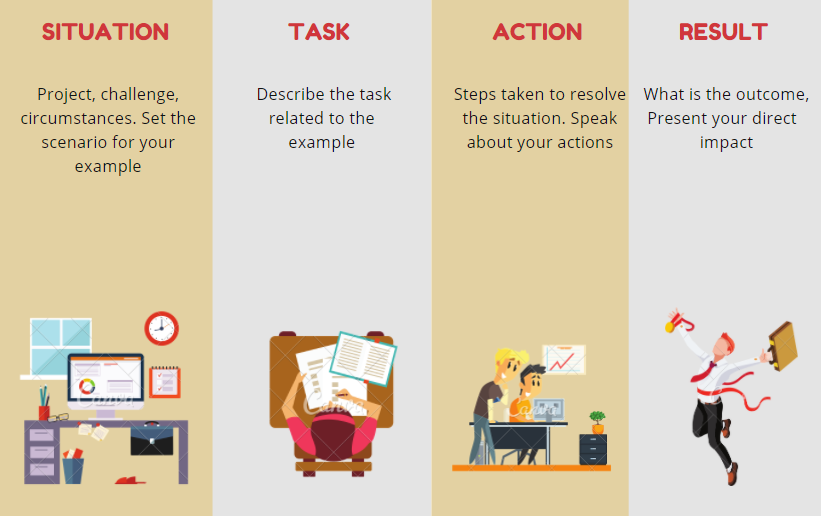 STAR Framework is invisible but gives you structure and strategy to come up with impressive answers. It's practical in application, helping to articulate your experience and tell a meaningful story. It's challenging to know what type of questions exactly the interviewer will ask you. Questions are designed based on the competencies that are required for the role and usually start with:
"Can you tell me about the time, when…?"
"Describe the situation when …"
Based on the Job Description, you can predict some of them. Having that in mind, it's important to have a few examples, you can adapt to a different situation. Mastering how to use the technique will help you organize your thoughts and ideas and build your confidence during the interview.
Nail the STAR framework
Be tactical! Learn how to read the job description and aim to find the required competencies for the role. Look for the keywords that will lead you to those competencies.
Think about the examples of your success and practice telling the story using the methodology. Great to have a few examples you can adapt to a different situation.
Have a mature reflection on your failures. How would you speak about them using the STAR framework?
Quantify your success, use numbers and data to show your direct impact on the result.
Be specific and concise- 1-2 sentences to each part is enough!
Do not memorise the answers; learn how to answer questions using the technique!
Practice, practice, practice!